Facebook offers a huge potential market for your products or services. However, with so many ads competing for attention, how do you make sure your ads stand out and get results? In this article, we will show you how to create, spy, and optimize Facebook ads that boost your business. You will learn how to create ads that sparkle and sell, how to spy on your competitors' ads and find new ideas on Goodsfox, and how to optimize your ads for effectiveness. By the end of this article, you will have the skills and tools to create Facebook ads that shine and sell like crazy.
01 How to Create Facebook Ads that Sparkle and Sell
Facebook ads are a powerful way to reach your ideal customers and grow your business. But how do you make ads that stand out from the crowd and get people to click, like, and buy? Here are some tips to help you craft successful Facebook ads that sparkle and sell.
1. Know Your Audience and Speak to Their Needs
One of the best features of Facebook ads is the ability to target your audience based on their location, gender, interests, behaviors, and connections. This means you are able to tailor your message to the specific needs, desires, and pain points of your ideal customers. For example, if you sell garden hoses, you can target people who are interested in vegetable gardens and home improvement, and create ads that highlight how your hoses can help them grow their own food and save money.
2. Use Eye-Catching Images and Videos
People scroll through their Facebook feeds quickly, so you need to grab their attention with images and videos that are bright, clear, and relevant. According to Goodsfox, an ad spy tool for e-commerce intelligence, videos account for 59% of facebook ads, so make sure you choose high-quality videos that showcase your product or service in action. You can also use images to demonstrate how your product or service works, tell a story, or share a testimonial. Just make sure the video is short, engaging, and has captions for people who watch without sound.

Source: Goodsfox
3. Write Clear and Compelling Headlines
Your headline is the first thing people see when they encounter your ad, so it needs to be clear and compelling. Your headline should summarize the main benefit or value proposition of your offer, and include a keyword that matches your audience's intent. For example, if you sell a SaaS tool that helps entrepreneurs manage their finances, you could write a headline like "How to Save Time and Money with the Best Accounting Software for Small Businesses".
4. Include a Clear Call to Action
The last but not least tip for writing successful Facebook ads is to include a clear call to action (CTA) that tells people what you want them to do next. A CTA can be a button, a link, or a phrase that invites people to take action, such as "Shop Now", "Learn More", "Sign Up", or "Claim Your Offer". Your CTA should be relevant to your offer, create a sense of urgency or scarcity, and use action verbs that motivate people to click.
02 How to write effective ad copy for facebook
1. Study your competitors' ads
Study your competitors' ads with Goodsfox, an ad spy tool that lets you see your competitors' ads on Facebook and other platforms. It allows you to search and filter ads by keywords, niches, countries, platforms, and more. Besides, the ad creatives, landing pages, active days of any ad are also visible to you.
With Goodsfox, you have the opportunity to easily identify your competitors' unique selling propositions, emotional triggers, pain points, benefits, and calls to action. Try to understand why they are using those elements and how they appeal to their target audience.
One of the keys to creating effective Facebook ads is using your competitors' ads as inspiration, not imitation. Don't copy their exact words or images, but use them as ad inspiration. Think of how you can differentiate yourself from them and offer something better or different. Goodsfox can help you find new trends, niches, and creatives that you can use for your own ads.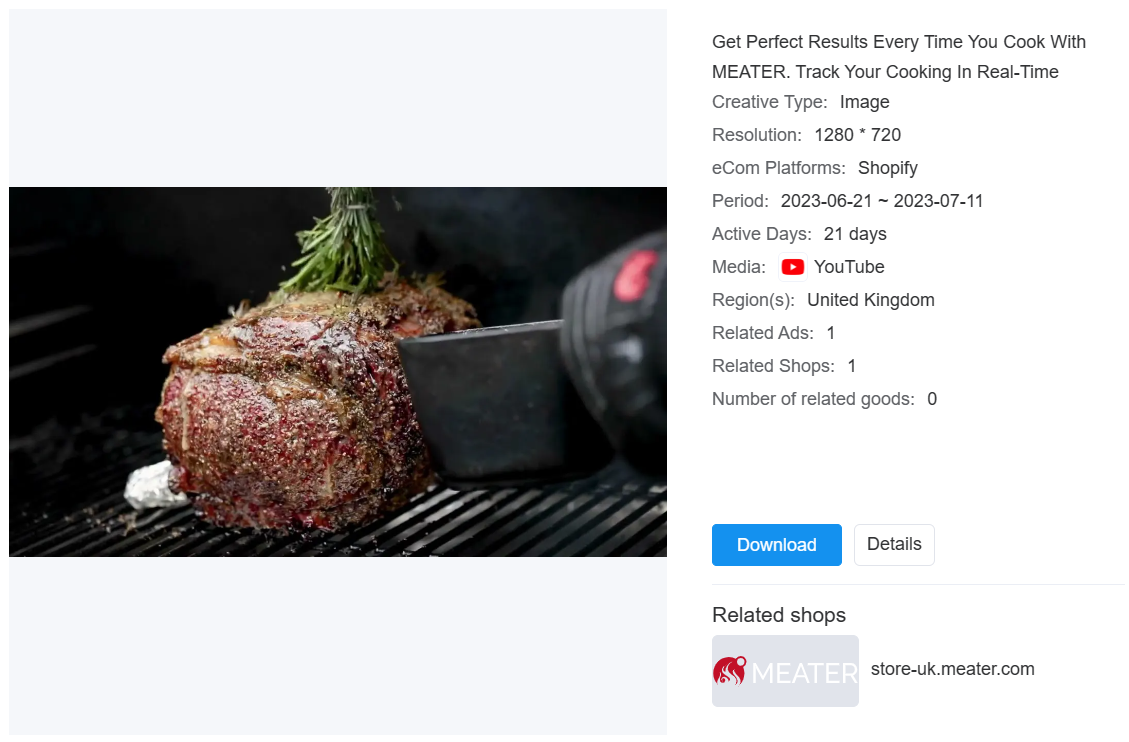 Source: Goodsfox
The ad from Goodfox is an image ad that promotes a wireless meat thermometer called MEATER. It shows a picture of the device inserted into a steak on a grill and connected to a smartphone app that tracks the cooking temperature and time. The ad claims that MEATER can help users get perfect results every time they cook, whether it is steak, chicken, fish, or pork. According to Goodsfox, users in the United Kingdom who are interested in cooking and technology are its targeted customers.
2. Test your ad copy
Another way to write effective ad copy for facebook is by test different variations of your ad copy and measure the results. First and foremost, it's essential to compare different headlines, images, videos, descriptions, and CTAs. Then, you should analyze the data and see which ones perform better in terms of clicks, conversions, and ROI.
3. Keep your ad copy clear and compelling.
Use simple and direct language that speaks to your audience's needs and desires can be highly effective. Besides, don't forget to include some power words, emojis, questions, and testimonials to add emotion and urgency.
03 How to Optimize Your Facebook Ad for Effectiveness
1. The Fast Takeoff Method
Use the fast takeoff method to launch your ad with a high budget and frequency for the first few days. This will help you get more impressions and data faster and then lower your budget and frequency once you find the winning ad.
2. Targeting Parallel Interests
Target parallel interests to expand your audience and reach more potential customers. Find out what other interests your audience has besides your niche and target them with your ad.
3. Targeting Influencers' Audiences
Target influencers' audiences to leverage their authority and trust. Find out who are the influencers in your niche and target their followers with your ad.
04 Conclusion
To sum up, writing effective Facebook ads that sparkle and sell requires knowing your audience, using eye-catching images and videos, writing clear and compelling headlines, and including a clear call to action. You can also use Goodsfox, an ad spy tool for e-commerce intelligence, to study your competitors' ads and find new ideas and trends for your own ads. By following these tips, it's very helpful for you to create Facebook ads that attract, engage, and convert your ideal customers.