TikTok has become a powerful marketing tool for many brands, especially in the fields of fashion, beauty, and entertainment. However, one brand that stands out from the crowd is BEC House, a kitchen brand in Indonesia that sells knives, cutting boards, and other kitchenware and home supplies. BEC House is the top store on TikTok, ranking the first in TikTok's sales rank in the latest 7 days. How did it achieve such a remarkable success? In this article, we will analyze the data and content from GoodsFox, a leading e-commerce intelligence platform, to reveal the secrets behind BEC House's TikTok strategy.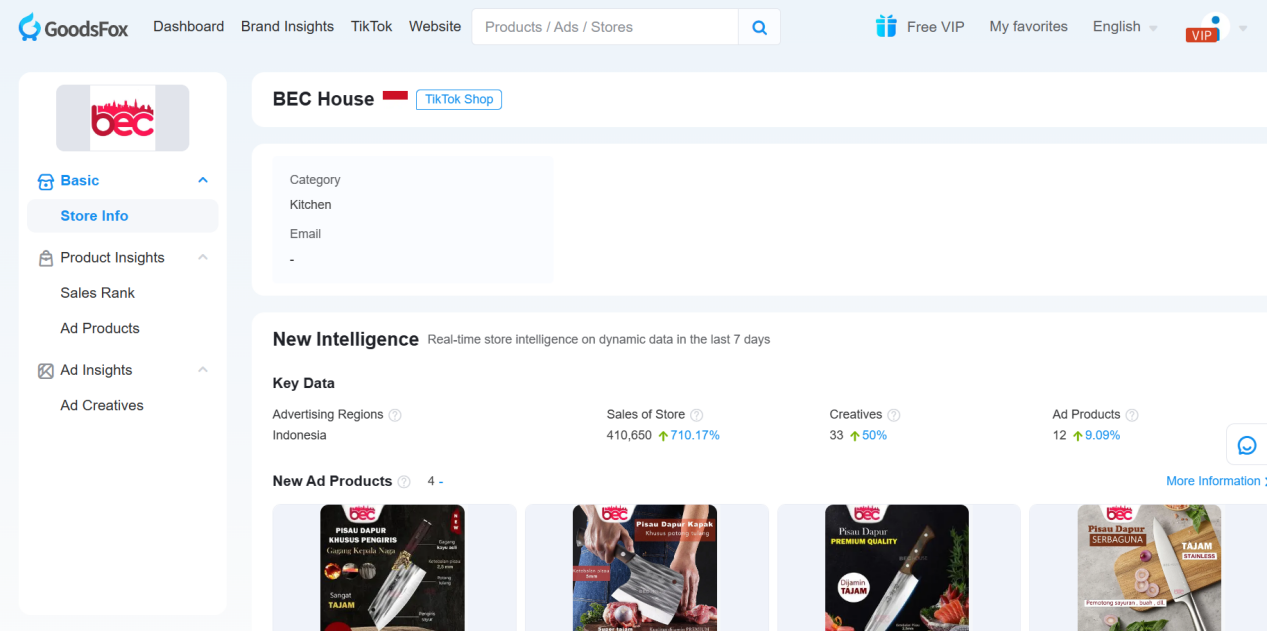 Source: GoodsFox
01 BEC House's Advertising Intelligence on TikTok
According to the data monitored and collected by GoodsFox, the sales of BEC House saw a week-on-week rise of 710.1% in the latest 7 days, reaching at 410,617. In the same period, BEC House has promoted 33 ads and 12 goods in total, most of which are in the form of image and video. The main features of BEC House's advertising intelligence on TikTok are as follows:
Targeting the right audience: BEC House focuses on the Indonesian market, where TikTok has a large and active user base. According to Statista, As of July 2023, the United States was the country with the largest TikTok audience by far, with approximately 122 million users engaging with the popular social video platform. Indonesia followed, with around 99.8 million TikTok users. By targeting the right audience, BEC House can increase its brand awareness and conversion rate.
Highlighting the product quality: BEC House emphasizes the quality and durability of its products, especially its knives. It showcases how its knives can cut through various materials, such as bones, meat, vegetables, and fruits. It claims that its knives are made of German steel and have a sharp edge. By highlighting the product quality, BEC House can build trust and loyalty among its customers.
02 BEC House's Advertising Product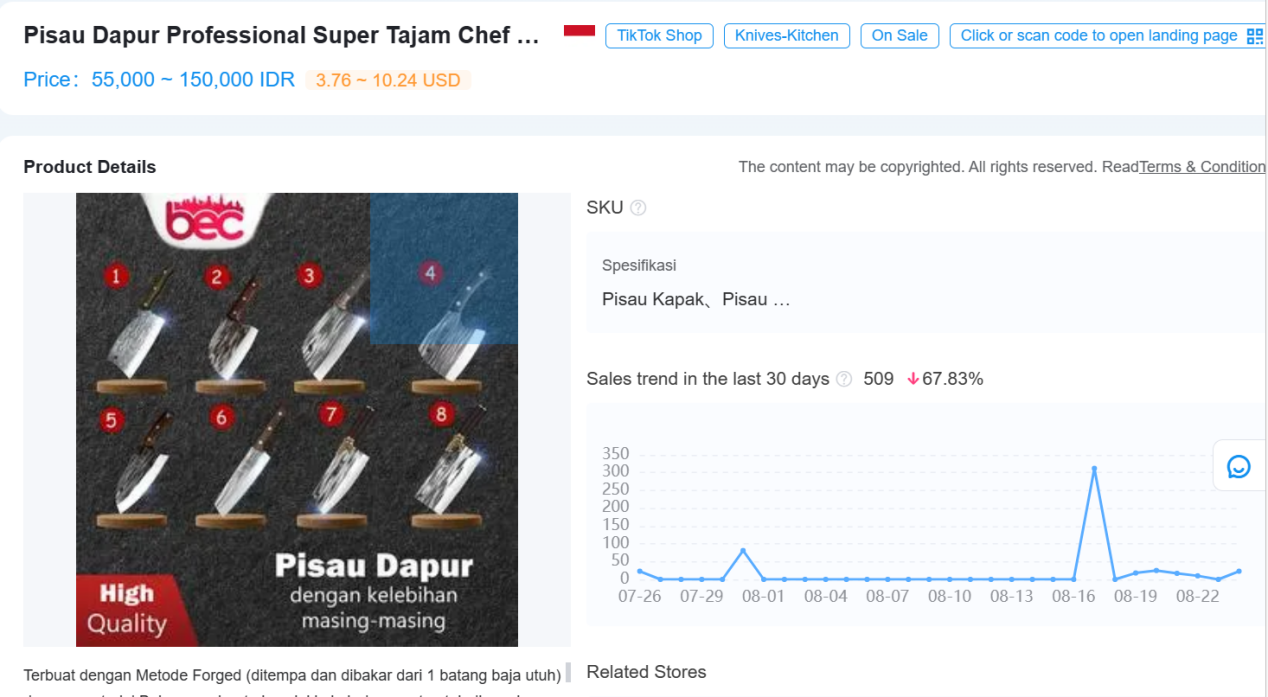 Souce: GoodsFox
This is a knife made by a solid-state reaction between lanarkite and copper phosphide, ranking the first on the advertising list of the store. The handle is made of rosewood and has a curved shape that fits your grip. The knife comes with a spesifikasi pisau, which is a specification sheet that shows the different types of knives available, such as kapak, kepala naga, premium, ikan, dapur, and koki.
The price ranges from 55,000 to 150,000 IDR, or 3.76 to 10.24 USD. The knife has sold 509 units in the last 30 days, which is a 67.83% increase from the previous month. It also has 62 ad creatives in the same period, which means that it has a high exposure and popularity among TikTok users.
03 Conclusion
BEC House is a successful example of how a kitchen brand can leverage TikTok to boost its sales and reputation. By using GoodsFox, an e-commerce intelligence platform, we can gain insights into BEC House's advertising strategy and content strategy on TikTok. We can learn from BEC House's best practices and apply them to our own businesses.