Popmart is a toys brand from China that specializes in creating original and trendy designer toys. The brand has a loyal fan base and a strong presence in the Asian market, but it also aims to expand its reach to other regions and audiences. In this article, we will analyze the advertising intelligence data of Popmart provided by Goodsfox, a leading platform for e-commerce and digital marketing insights. We will explore how Popmart uses different types of ads, media, and regions to promote its products and brand image.
01 Popmart's High Advertising Volume: A Contrast to Its Low Traffic Rank
According to Goodsfox, Popmart ranked 4,394,599 in the store's traffic rank in the latest 7 days. This means that Popmart's website is not very popular or visited compared to other online stores. However, this does not mean that Popmart is not investing in advertising or marketing. On the contrary, From 2023/6/3 to 2023/7/2, Popmart has promoted 587 ads in total, including 509 new ads, which is a relatively high number of ads for a niche brand and shows that the brand is constantly updating and refreshing its advertising content.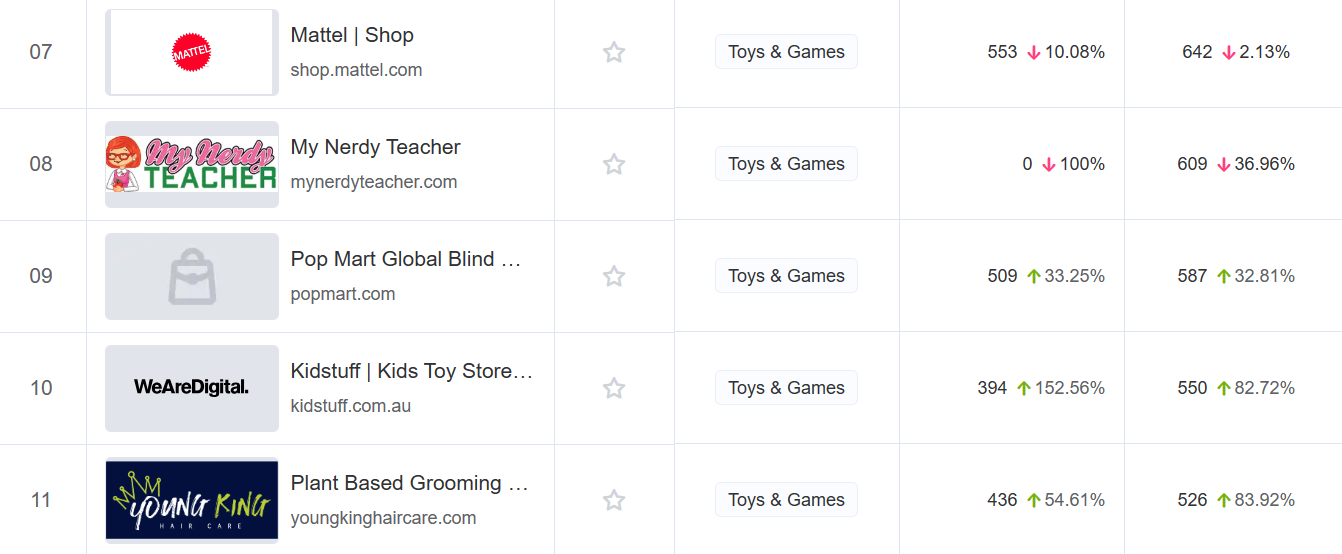 Source: Goodsfox
02 Popmart's Image Ads: A Powerful Tool for Global Expansion and Marketing Diversity
Popmart uses mainly image ads to showcase its products and attract customers. Image ads are effective for displaying the visual appeal and uniqueness of Popmart's toys, as well as conveying the brand's personality and style. Image ads also have the advantage of being compatible with various media platforms and devices.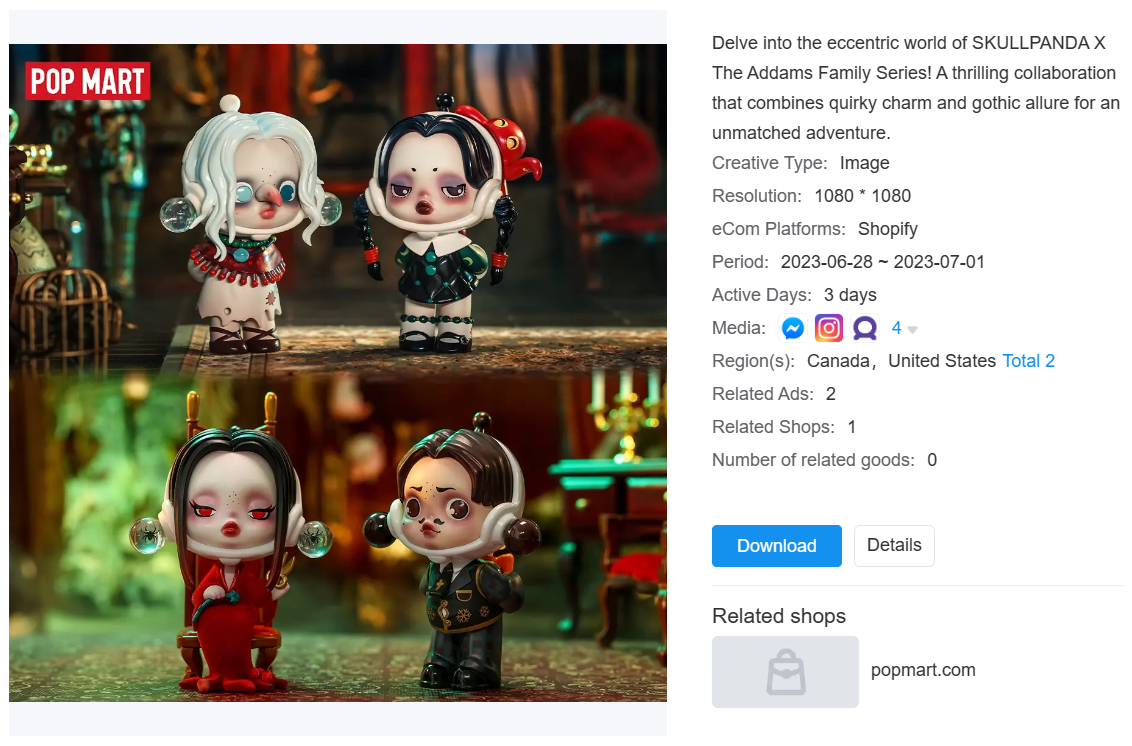 Source: Goodsfox
The image ad of SKULLPANDA X The Addams Family Series is a creative and eye-catching way to promote popmart's blind box collectible figures. It combines the iconic characters of The Addams Family with the unique style of SKULLPANDA, creating a contrast between quirky charm and gothic allure. Therefore, it can greatly attract the attention of both fans of The Addams Family and popmart's loyal customers, as well as potential new buyers who are curious about the collaboration. The image ad also shows the quality and variety of popmart's products, which can increase the brand awareness and sales.
03 Popmart's social media advertising strategies
Popmart's ads cover 14 regions and 5 media platforms, which demonstrates its global vision and diverse marketing strategies. The advertising regions include Canada, US, Thailand, Malaysia, France, Australia, UK, Germany, Taiwan of China, Spain, Hong Kong, Macao, Mexico, and Indonesia. According to the chart from Goodsfox, Canada and US are popmart's main markets, of which ads account for nearly half of all advertisements of popmart.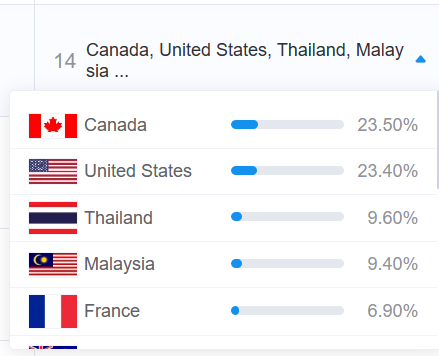 Source: Goodsfox
Popmart has a balanced and diverse ads distribution across different platforms. The brand allocates about a quarter of its ads to each of the four social media: Facebook, Instagram, Messenger, and Meta Audience Network. These platforms enable Popmart to reach a wide and varied audience who may be interested in its products and brand image. Popmart also allocates a small percentage of its ads to AdMob, a platform that specializes in mobile app advertising.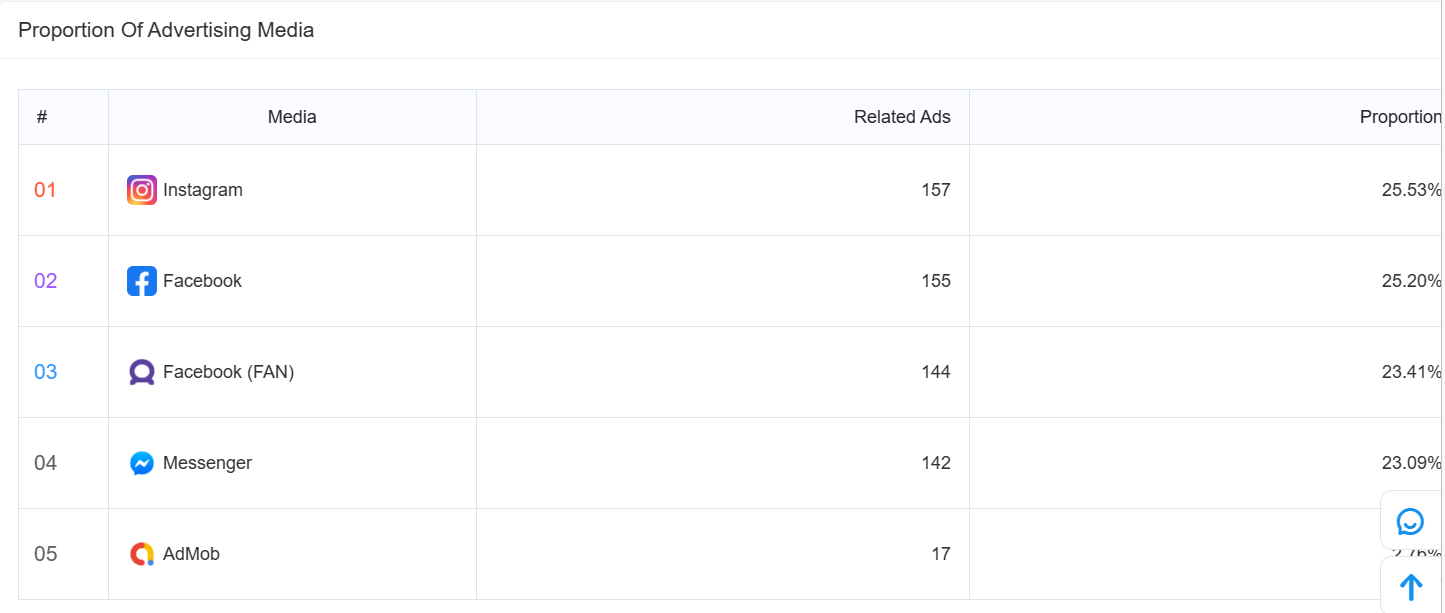 Source: Goodsfox
04 Conclusion
Popmart is a toys brand from China that has a global ambition and a diverse marketing strategy. The brand uses image ads to showcase its products and brand image on various media platforms and regions. By analyzing the advertising intelligence data provided by Goodsfox, we can gain insights into Popmart's strengths in its online marketing efforts. If you want to learn more about popmart's advertising situation or other brands in this industry, you can visit Goodsfox.com for more data and content. Goodsfox is the leading advertising intelligence platform that helps you monitor your competitors' ads, discover new marketing ideas, optimize your ad performance, and grow your business.
---
Follow Goodsfox's social media accounts or register immediately at Goodsfox to learn more mobile advertising insights.
LinkedIn: https://www.linkedin.com/company/Goodsfox/
Twitter: https://twitter.com/Goodsfox_AdSpy
Facebook: https://www.facebook.com/profile.php?id=100094040612582
TikTok: https://www.tiktok.com/@Goodsfox_official?lang=zh-Hans