Have you ever wondered how some brands can make their products stand out from the crowd and attract loyal customers? In this article, we will take a look at BURGA, a brand that turns everyday essentials into fashion accessories. We will use Goodsfox, a leading platform for e-commerce intelligence, to analyze BURGA's advertising strategy, store traffic, and product design. We will also share some insights on how BURGA creates a unique brand identity and what other Shopify store owners can learn from it.
01 What is BURGA
BURGA is a brand that turns everyday essentials into fashion accessories. Founded in 2016 by two best friends in Lithuania, BURGA offers a range of products that are both functional and fabulous, such as phone cases, eyewear, drinkware, notebooks, iPad cases, MacBook cases, earbuds cases, ring holders, Apple Watch bands, screen protectors, and charging accessories. BURGA is more than just a brand, it is also a community of effortlessly stylish and confident souls who know how to make a statement.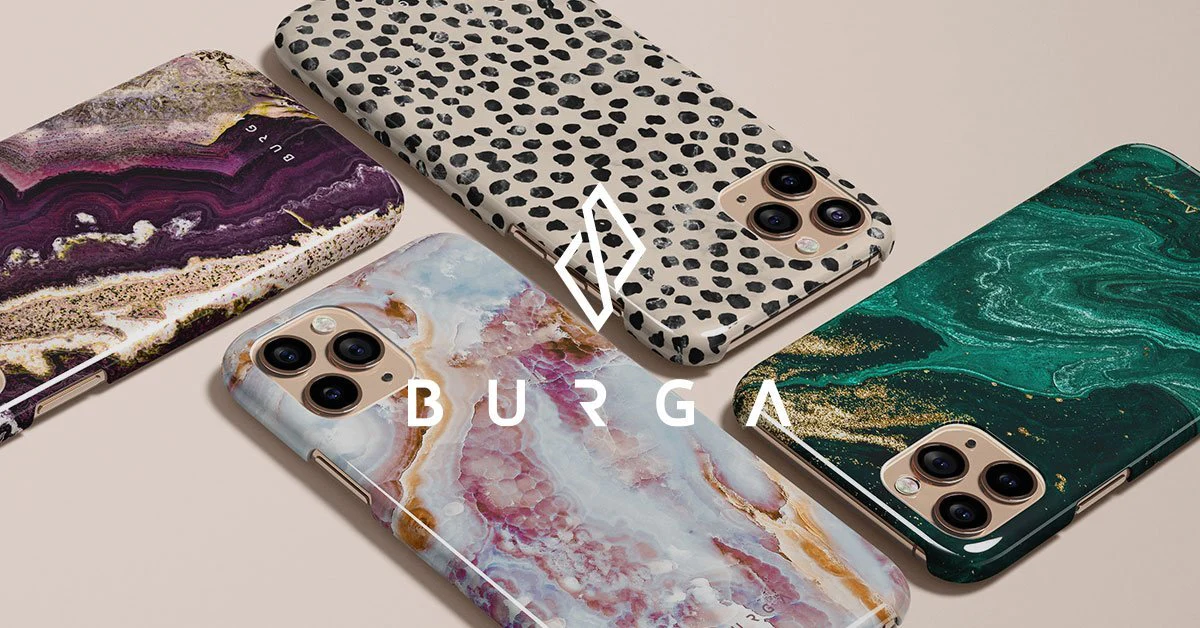 Source: BURGA
Although it has multiple sales channels, its official online store is still the core of its layout. According to statistics, BURGA's official online store has more than 20,000+ SKUs, with high quantity and fast update, which is one of the secrets of its ability to attract consumers and maintain growth.
02 overview of store
According to the data monitored and collected by GoodsFox, Burga has promoted 949 ads in total in the latest seven days,with a week-on-week rise of 16.58 percent, covering 21 areas and 7 media. There is a balanced distribution on Burga's ads in Instagram, Facebook, Massenger and Meta Audience Network, which are the four main advertising media of it. Burga ranked 1,414,270 in store traffic among all Shopify stores in the same period.

Source: GoodsFox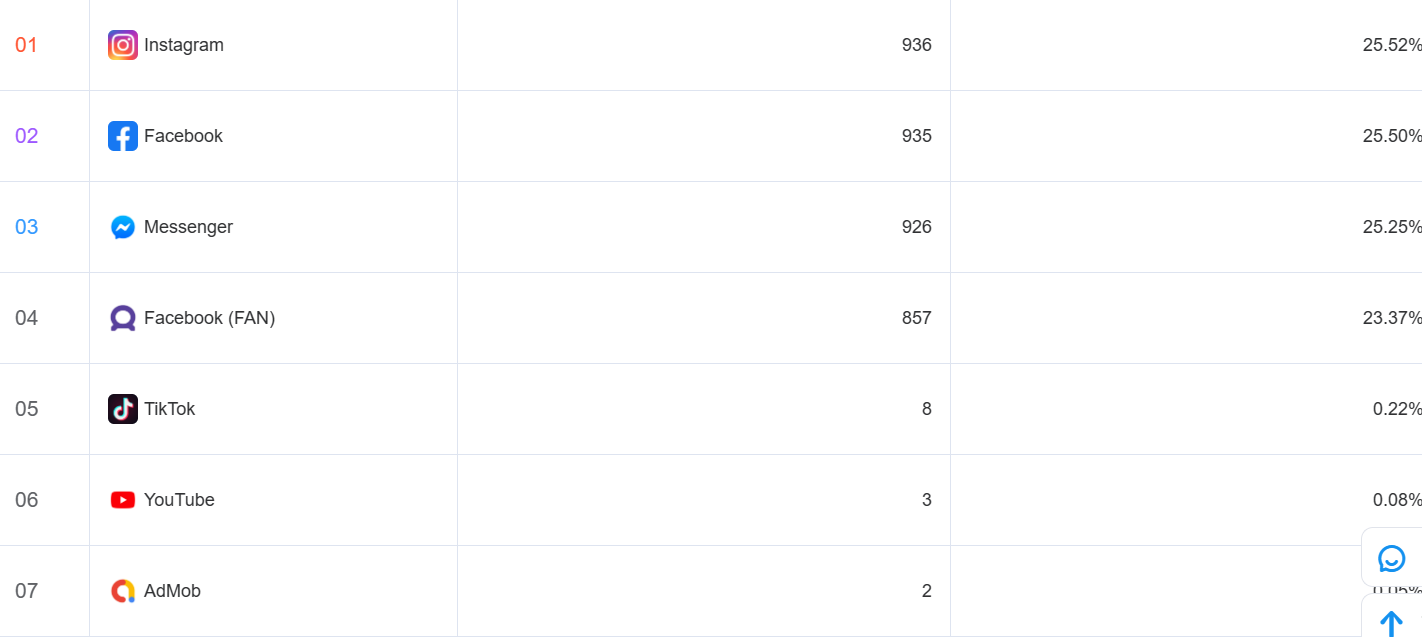 Source: GoodsFox
03 How does BURGA advertise its products
The ad is a video that shows a model posing with the products in the beach. And the pink cloth is compatible with the color of the protective phone case. The video uses bright colors, upbeat music and catchy slogans to attract the attention of the young and fashionable women who want to add some flair to their devices and accessories.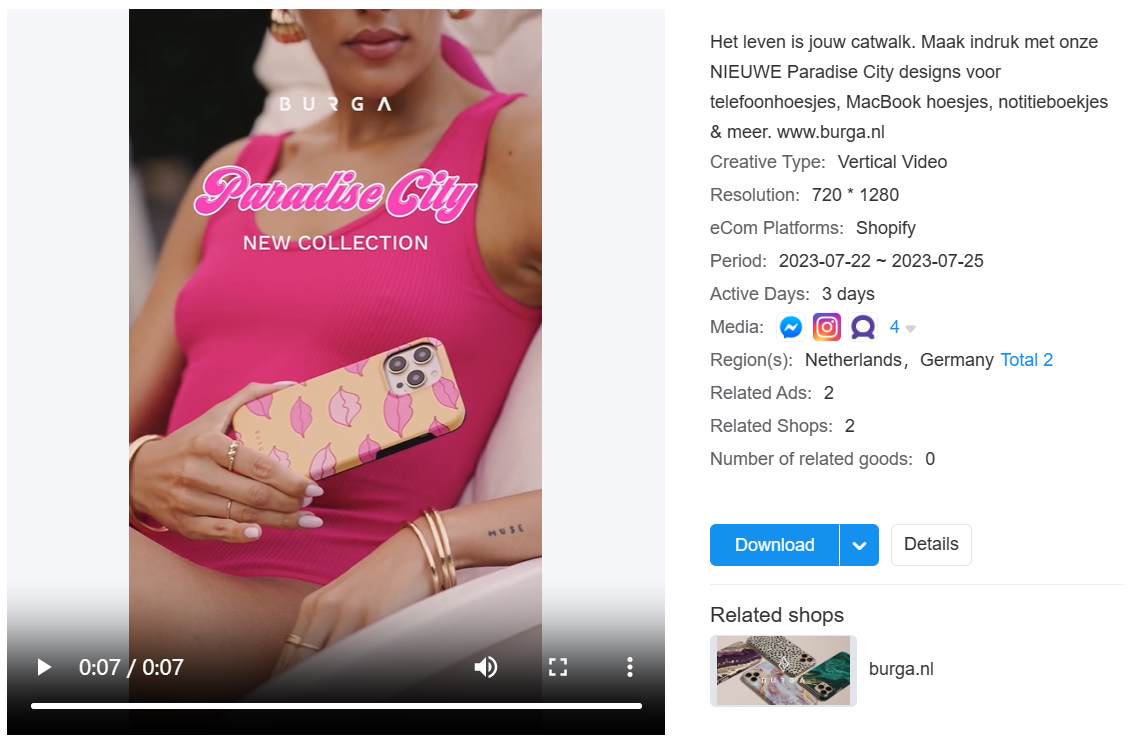 Source: GoodsFox
According to GoodsFox, users in Netherlands and Germany who are interested in stylish protective phone case are its targeted customers. And the goods has been advertised in four media for three days, including Instagram, Facebook, Messenger and Meta Audience Network.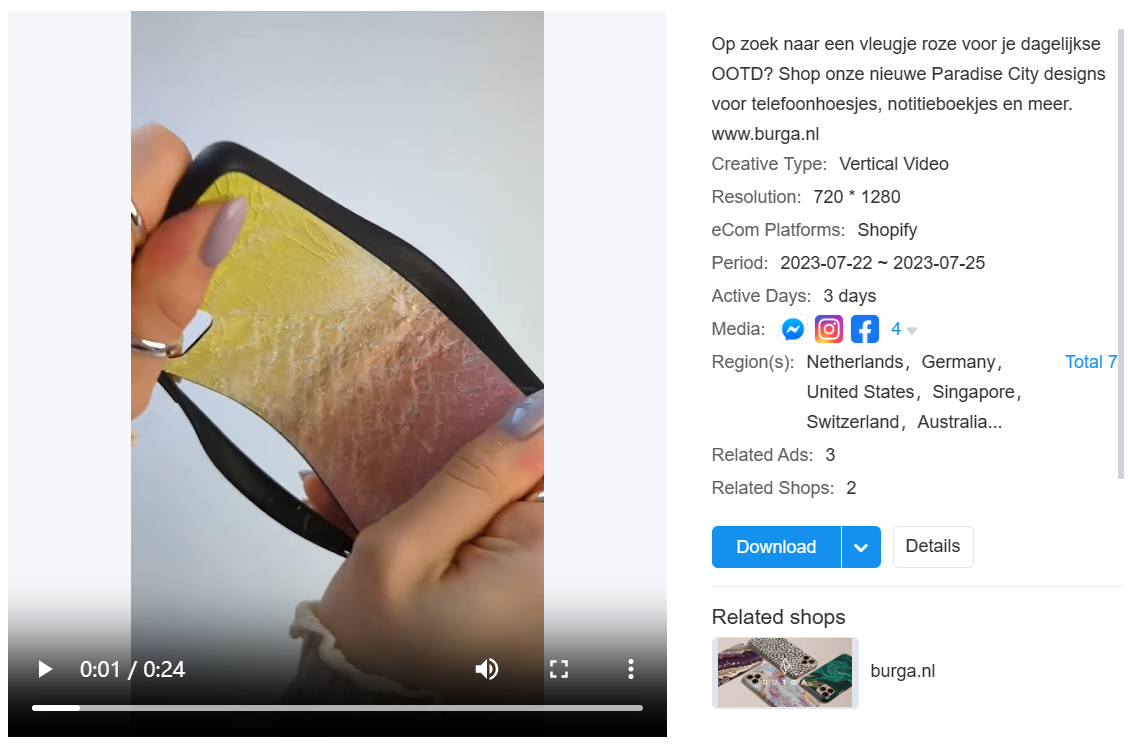 Source: GoodsFox
BURGA mainly highlights its own advantages and selling points by comparing with other products. For example, in the following ad, the opening emphasizes the disadvantages and pain points of low-priced phone cases, such as "easy to get dirty", "poor quality", "not durable", etc. Then it attracts users and increases purchase interest by showing product appearance details.
04 Conclusion
BURGA is a brand that knows how to make a statement with its products. By using Goodsfox, we are able to monitor and analyze BURGA's advertising performance, store traffic, and product trends. It is also possible to compare it with other competitors and identify its strengths and weaknesses. BURGA creates products that are both functional and fabulous, and appeal to its target audience of young and fashionable women. If you want to learn more about BURGA advertising situation or other brands in this industry, you can visit Goodsfox.com for more data and content. Goodsfox is the leading advertising intelligence platform that helps you monitor your competitors' ads, discover new marketing ideas, optimize your ad performance, and grow your business.