Finding trending products to sell is an important part of running an online store. You need to know what goods will be popular before they peak. By 'catching the wave' you'll be able to make money from growing sales rather than the product's decline. But finding popular products to sell can be a challenge. That's why we made this list to help you find trending products online.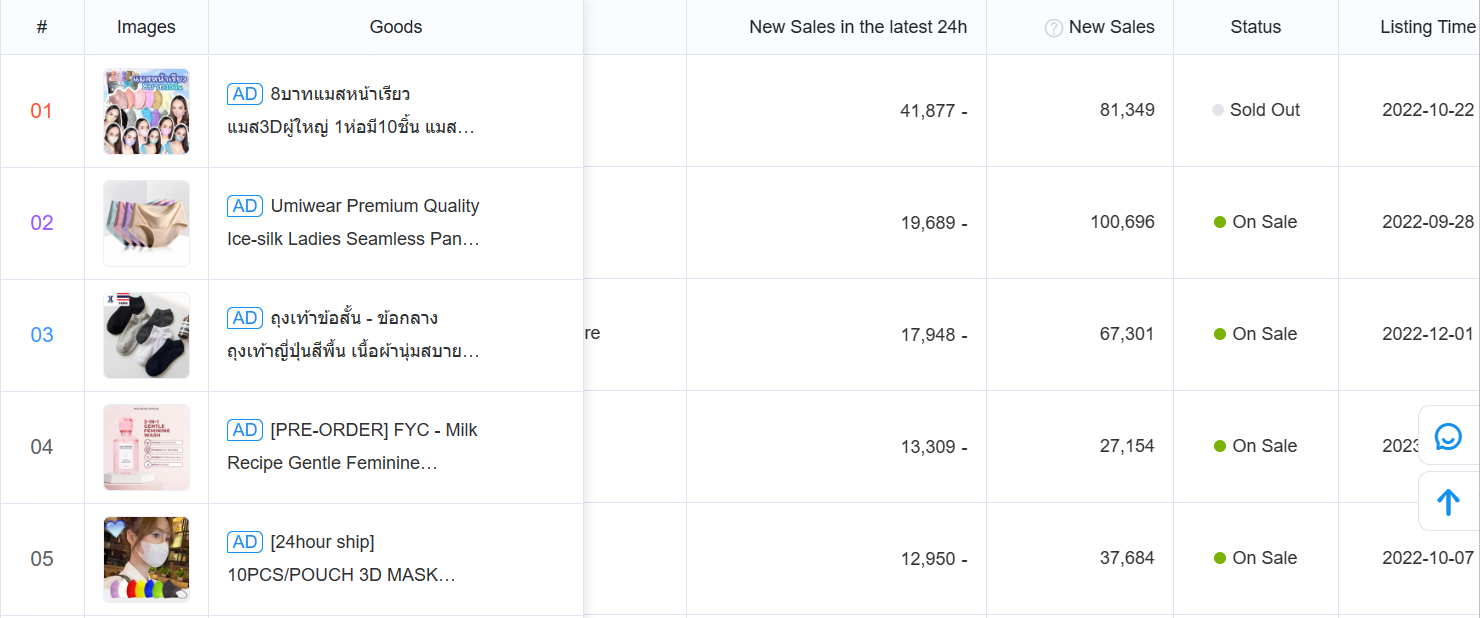 Source: Goodsfox
In this list, you'll find 5 trending products in TikTok that will activate your small business ideas in 2023-or maybe help you to discover a great product to add to your existing online store.
Top trending products to sell in 2023
Browse our list of highest trending products in TikTok, you can use to start your online business.
01 3D mask
3D mask is a medical care and health care product that claims to be comfortable, breathable, and fit well on the face. It is made of non-woven fabric and comes in various colors.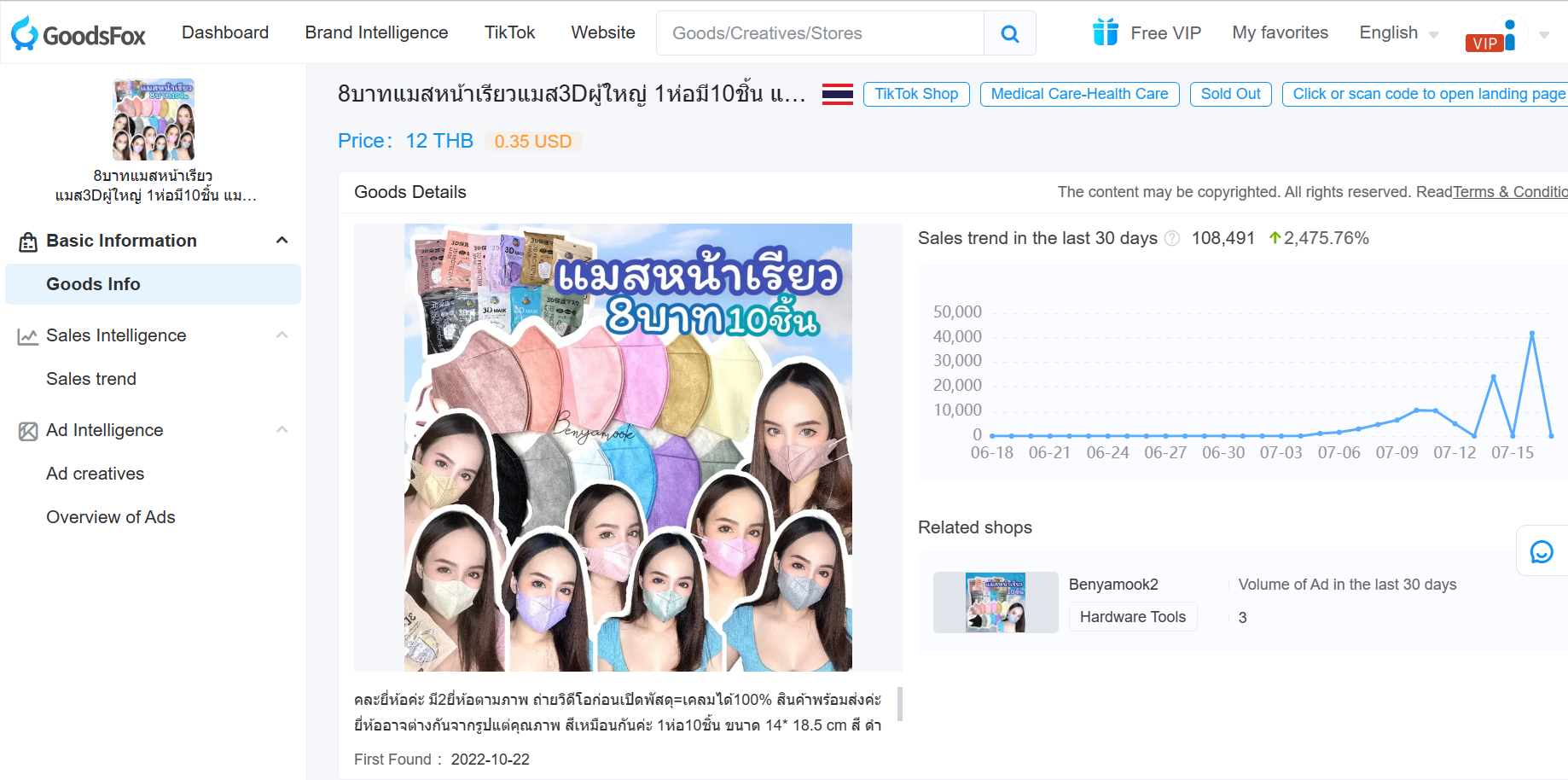 Source: Goodsfox (Store: Benyamook)

Source: Goodsfox (Store: Benyamook)
According to Goodsfox, there are two kinds of 3D mask ranking in the top five of the sales rank. The product from Benyamook tops the sales list, with 41,877 sales in the latest 24 hours, and a price of 12 THB (0.35 USD). The product from sanahfashion ranks fifth in the sales rank, with 12,950 sales in the last 24 hours, and a price of 19 PHP (0.37 USD). Both products have been listed since October 2022, but now the 3D mask from Benyamook has already been sold out and the other is still on sales.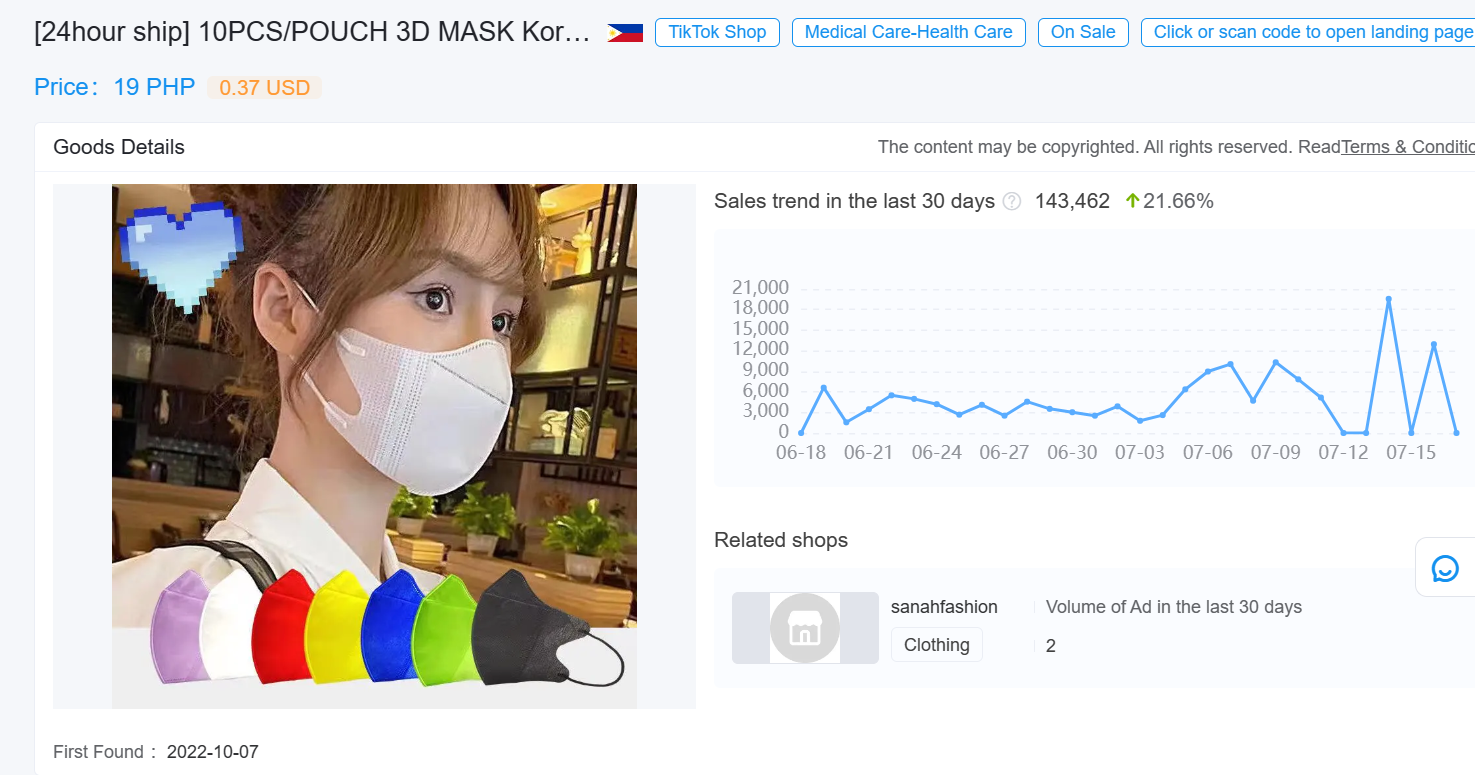 Source: Goodsfox (Store: sanahfashion)

Source: Goodsfox (Store: sanahfashion)
02 Panty Women Underwear
The underwear is a product of Umiwear, a brand that sells women's underwear and loungewear on TikTok. The underwear is made of ice silk Lycra, which is a high quality and comfortable material. And it comes in different sizes and colors, with a price of 30 PHP(0.58 USD).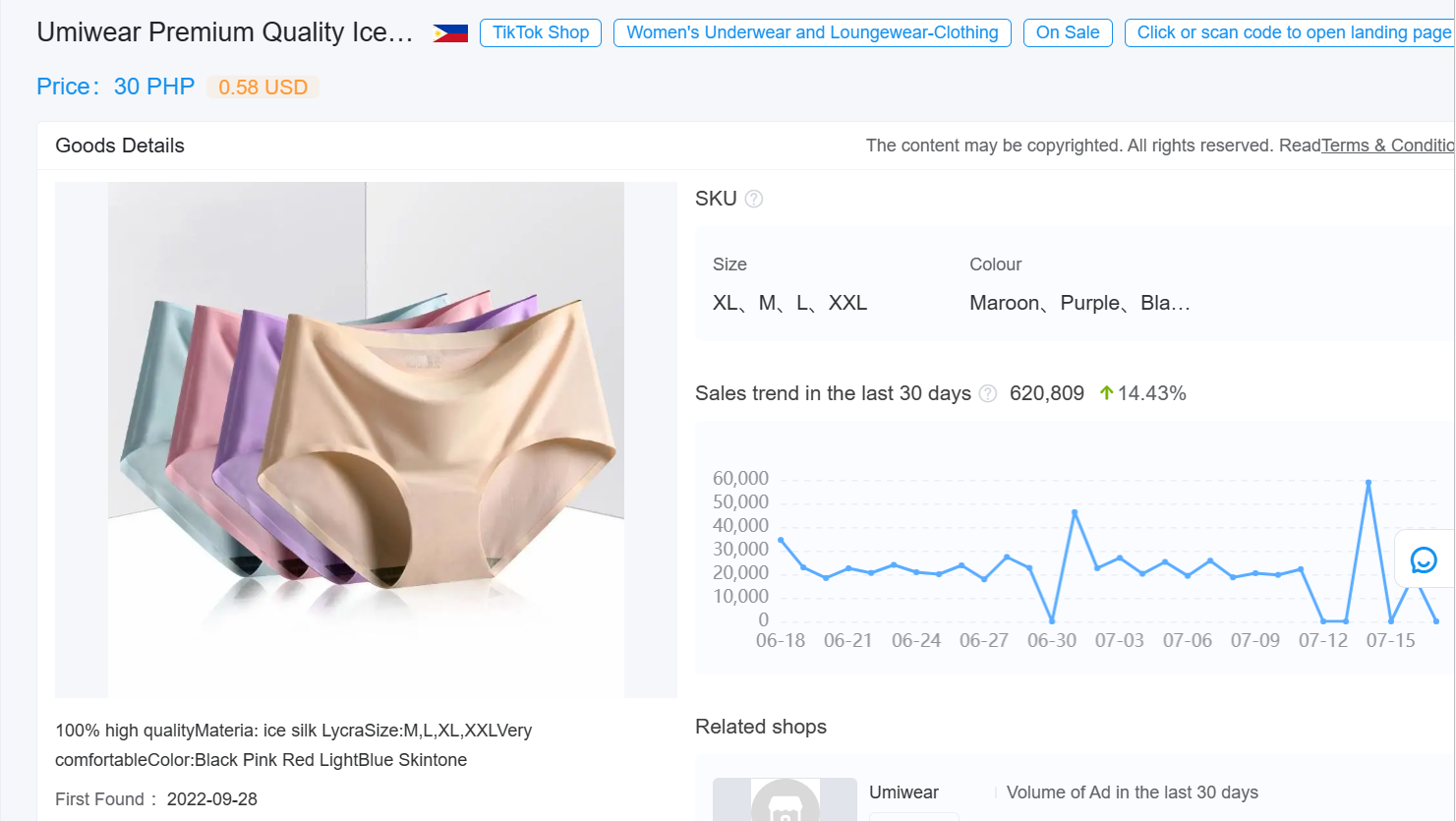 Source: Goodsfox
Sales trend data from Goodsfox shows a significant increase in the sales of the underwear since early July. In the last 30 days, it has been sold 620,809 units, which is a 14.43% increase from the previous month. This indicates that the underwear is popular and in high demand among the customers.
03 Socks-Clothing
This is a pair of plain socks that are unisex and suitable for work or leisure. They are made of recycled cotton and a soft texture, which have a good breath ability and elasticity, and are durable and resistant to fading. The socks come in two sizes: short and medium, and fit shoe sizes EUR 38-44 or US 4-7. Besides, Various colors are available.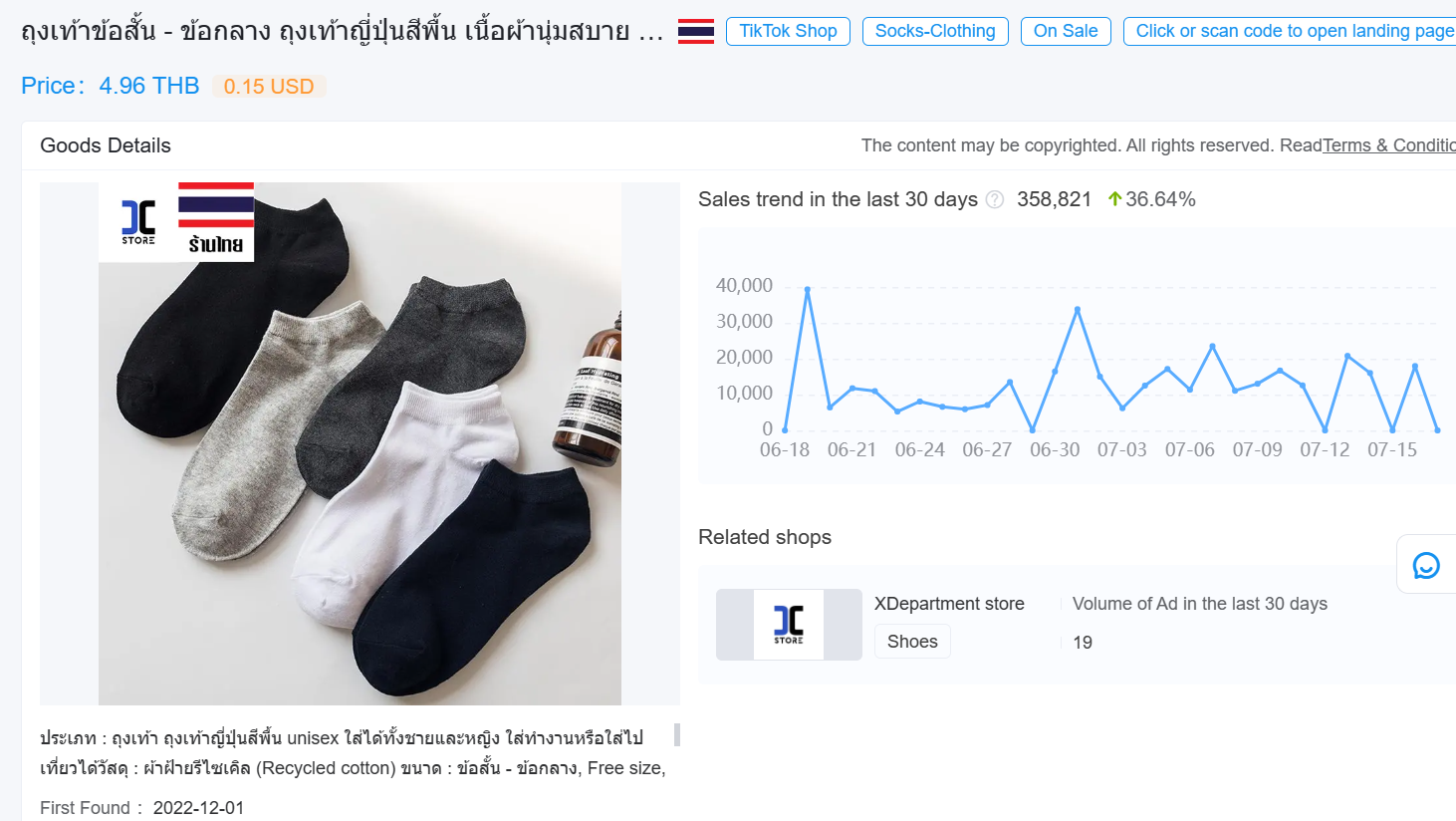 Source: Goodsfox
According to Goodsfox, The last 30 days witnessed a fluctuation in the sales trend of this socks, reaching its peak at 39,326 on June 19. And it has been sold 358,821 units in the last 30 days, a month-on-month rise of 36.64 percent.
04 Gentle Feminine Cleanser
This a gentle feminine cleanser called Milk Recipe. It is a low pH formula that balances the pH of the intimate area and contains natural ingredients such as betel leaf extract, chamomile extract, lactic acid, and ceramide. It claims to clean, reduce odor, and brighten the intimate area.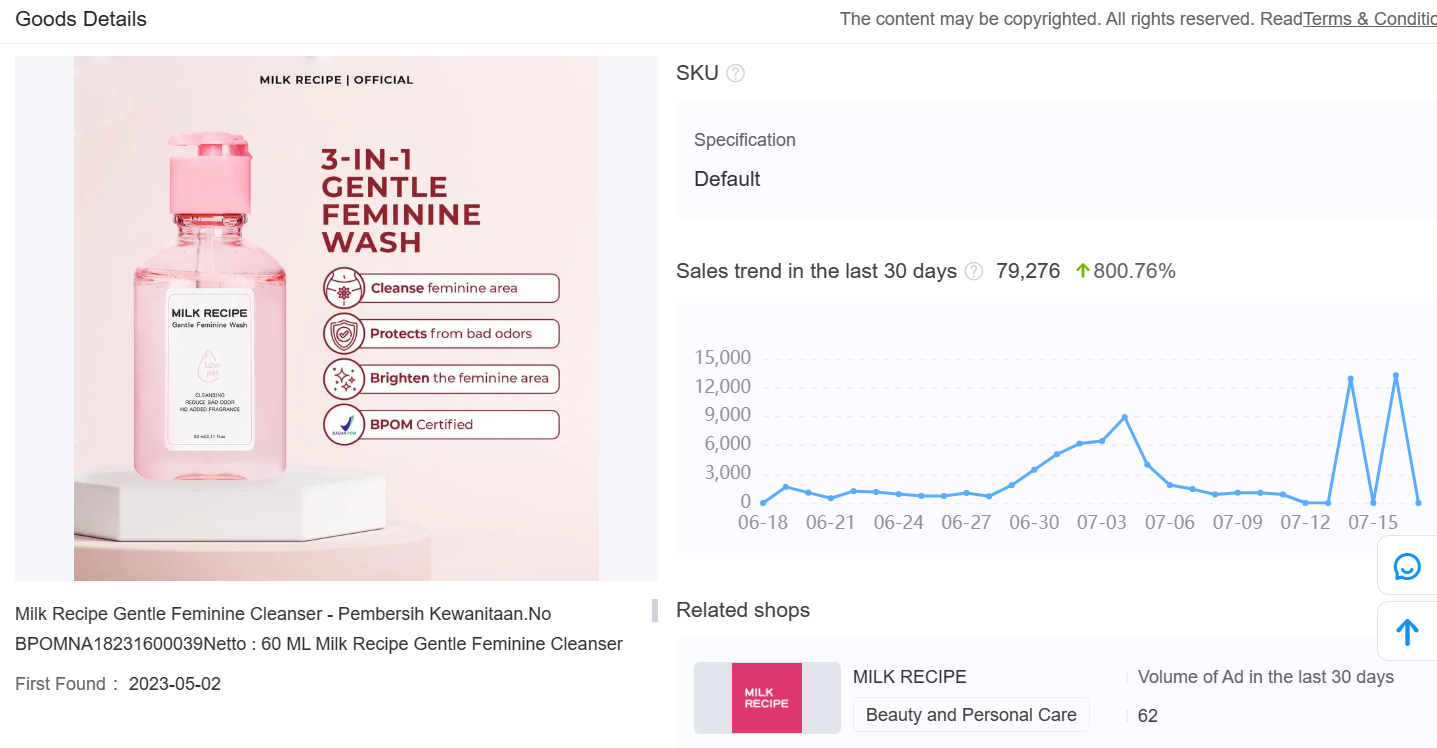 Source: Goodsfox
The new sales of the cleanser have increased by 800.76% from June 18 to July 17, 2023. Before increasing to its highest at 12,957 on July 14 and 16, the new sales of this products has already risen to 8,942 on July 4.
Conclusion
In conclusion, these are some of the trending products in TikTok that you can sell online in 2023. They are popular among the customers and have high sales potential. Whether you are looking for a new product to start your online business or a great product to add to your existing store, you can find inspiration from these products. You can also use Goodsfox to track the sales trends and ad creatives of these products and others. By doing so, you can stay ahead of the competition and catch the wave of the market demand.